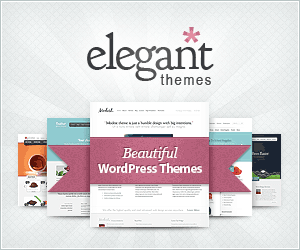 Last week I joined the ElegantThemes theme club.
It is a steal at $19.95 per year. You get immediate access to 14 WordPress themes. The theme you are seeing on this blog is one of these 14 themes. As Nick summarizes:
Each WordPress theme comes expertly coded in valid XHTML and CSS, and all are made compatible with the latest version of WordPress. I make sure that each template performs flawlessly in each of the most widely used browsers to insure maximum functionality. Furthermore, all sidebars are made widget ready for your convenience.
Elegant Themes also has a very reasonable licensing agreement. You are allowed to make modifications and remove credit links. As long as you don't claim to own the themes and/or try tell or distribute them and use them on the websites you own you won't be violating terms of use.
Why I did I decide to join the Elegant Themes?
There are hundreds maybe thousands of free WordPress themes available online. Some of them are great themes and supported and updated by the authors who should be praised for their contributions. During the past year and a half as I started using WordPress, I found great free themes I still use.
I also dabbled in modifying these themes and even making my own theme by reading "WordPress Theme Design: A complete guide to creating professional WordPress themes" by Tessa Blakeley Silver. I recommed the book to anyone who wants to create his/her own theme.
I found that it is a lot easier and faster to start with a theme and then modify it to my needs and desires. This is the number one reason I joined the Elegant Themes. I got an immediate access to 14 themes to do just that.
Even if you are not interested in doing any modifications, having 14 different themes to choose for your website / blog for only $19,95 is a steal. There are premium WordPress themes available for $79 plus. Yes that is $79 + for one theme. Most themes you get at Elegant Themes have options to change color scheme and look easily. This is great for newbies who still want to have a blog with a unique look.